Camera Price Guide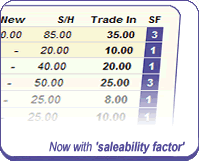 A subscription to the Monark On-Line Price Guide can be the lynchpin of many varied operations, from photographic shops and pawnbrokers to insurance companies.
The Guide has several sections and covers:
35mm SLRs & Lenses (Inc independent manufactures such as Sigma, Tamron etc,)
35mm Rangefinder Cameras & Lenses
Compact Cameras
APS Cameras
Medium Format Cameras
Exposure Meters
Electronic Flash
Digital Cameras
Video Cameras
Collectable Cameras
and more!
It's just like having a photo expert in your computer!
Important Notes on Prices & Saleability Factors
How We Set Prices
In order to arrive at the Guide prices we constantly monitor thousands of UK transactions, auctions and other offers for sale. In addition, we attend many of the UK's largest camera fairs. Sale prices, 'Special Offers' or other one-offs are not taken into account. When an item is discontinued or replaced by a new model, you may notice a corresponding reduction in the second-hand prices quoted, as well as the removal of the 'NEW' price from the listings.
Saleability Factors
Another aspect we consider when setting prices is an item's desirability - what we call it's 'Saleability Factor' (the SF column heading). This will give you an idea as to how quickly an item should sell but it is not always linked just to the value of an item.
In the Collectable Cameras section of this guide for example, some modestly priced cameras may have a 'SF' higher than that of more expensive, current models. This is because, in our option, those items should sell quicker and easier.
Obviously we cannot guarantee you an instant sale for any item, but this information should be useful when considering a purchase, or pricing an item to sell. This is how we define each factor.
Saleability Factor
Basic quality and/or very common. Supply usually exceeds demand
Average quality and/or common. A slow to average seller
Fairly popular item. Usually a steady seller
Sort-after. Should sell well in the right market
Rare or very specialised item. May require individual marketing*
*If you are lucky enough to obtain an item with a 'SF' of 4 or 5 we may be able to help you to place it with a specialist user or collector or with one of our dealer contacts within the trade. Please contact us (without obligation).
Equipment Condition
Currently there are many differing systems in use for grading second-hand equipment. For the purposes of this Guide the following definitions are used to arrive at our published prices:
Mint Condition - Literally as it came out of the factory, preferably still with the original packaging - Add 10-20%*
Good Condition - Fully working with slight signs of use - Price as Listed
Used - Fully working, but showing normal signs of use or age - Subtract 10-25%
Well Used - Working, but showing signs of heavy use or wear - Subtract up to 50%
*Collectable equipment in mint condition, such as Leica, Contax etc could be worth up to 50% more.
Digital Cameras and Camcorders
For digital cameras and certain video camcorders to be saleable at the price shown they should include all of the original leads and, where appropriate, batteries PLUS any software/drivers. If offered equipment without these items, one should question their source.
New - Second Hand Internet Prices
As a guide to help subscribers decide on the best market for their items we are now publishing Internet Selling Prices, where available, for many popular digital cameras. The majority of these prices are from the eBay auction site www.ebay.co.uk but we also incorporate sales from other sites as and they become more popular. As with all auctions (as regular users of eBay will already know) prices realised can fluctuate wildly. Items come in and out of favour all the time, compounded by the fact that final selling prices are only available for a maximum rolling 30-day period.
If only a few people were looking for a certain camera in that period, then the price will be low. If, however, there are several people looking (or more likely, two buyers each determined to out-bid each other) then the final price goes up. The figure in the 'Internet' column is the average selling price for that item, expressed as a percentage of the normal Guide selling price (which covers all other markets).
If the percentage figure is preceded by a minus sign, then the eBay price is, on average, that amount LESS that you might expect from selling outside the Internet. If the there is no minus sign, it is that amount MORE. We hope you find this new feature useful.
Subscriptions
If you do not yet have a subscription to the Monark Price Guide, please go to our how to subscribe page for more information.